We would like to know what you think this new community space could be used for.
If you or someone you know might be interested in using the space to host community projects and activities, interested in applying for the lease when it becomes available or would like to share what you think might be good use for the space then get in touch.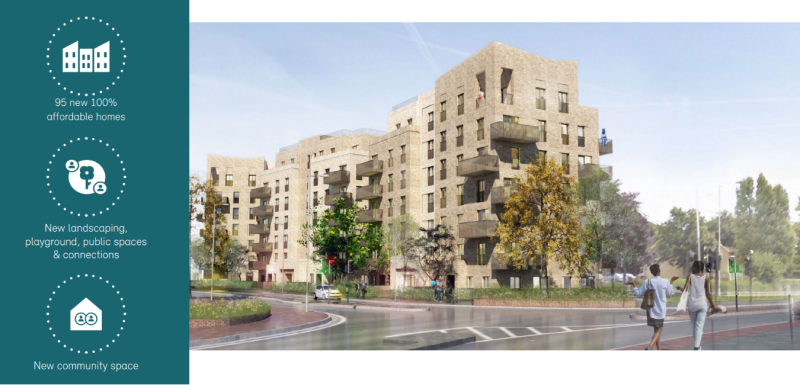 We cannot guarantee what will happen in the space in the future as it depends on who or what group applies for the lease, but this is a chance to express early interest! This is also not part of the formal lease application process however we are keen to hear your thoughts.

Who can apply?
Once the lease is open to applications a range of people can apply, including community groups, local organisations, not-for-profits, social enterprises and more. We'd happily answer any questions you have going forward, whether you're an independent social enterprise or a group of local community groups wanting to use the space. Please note that this space is part of residential area and so we cannot accept applications from faith groups.
What's the space like?
Sebastian Court is a new development from Be First. The new space will provide 95 new affordable homes, bringing a new landscaping to the surrounding area and also new playgrounds, public spaces, and connections.
The community space on Sebastian court is roughly 169 sqm.
It has a self-contained entrance.
It is a normal shape room, fairly open plan with bathroom facilities.
There will be other public spaces on site too such as a play area, benches and communal gardens and paths for people to walk across and through the site.
The opening times of the space are limited to 7am – 11pm on any day.
The space runs off electricity and has no access to gas.
The space will be peppercorn rents with an annual service charge will be approximately £2100 per annum. You will responsible for the cost of utilities. If you are interested in finding out more please express an interest by completing the form above.